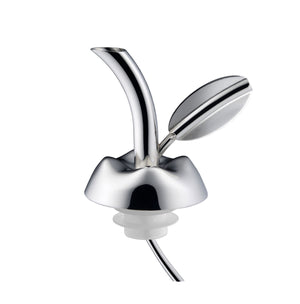 ALESSI Olive Oil Pourer - Fior d'olio
Sale price Price $ 40.00 Regular price $ 0.00
Designed by Marta Sansoni
A SOPHISTICATED OBJECT FOR THE OIL TASTING. Alessi Pourer for olive oil bottle in 18/10 stainless steel mirror polished and thermoplastic resin.
"Filo d'olio" has been designed by Marta Sansoni. "Fior d'olio" is a little iconic mechanical gem for use with "green gold", another name for olive oil. "Fior d'olio" is a cap with a pouring spout that fits into the neck of the bottle, allowing you to pour only as much as you need on your food, while controlling the oxidation process that begins as soon as the bottle is opened. The small glass container that houses it has a second function: to assist professional tasters to sample the oil according to the time-honored tradition.
THE DESIGNER
Marta Sansoni
Marta Sansoni, an architect and designer living in Florence (Italy), graduated in architecture in 1990. Her thesis work project "A building for worship" was published by the School of Architecture at the University of Florence and was selected to represent the Department of Architectural Design at the 1991 "Salon International de l'Architecture" in Paris. From 1990 to 1996 she has officially and continuously been a lecturer in the course of Interior Architectural Design at the University of Florence. She participated in several national and international design exhibitions and competitions: among these, the 1990 "Memory Containers" with Alessi. In the field of architecture, she has realized projects for new buildings in Florence and many projects of interior architectural design for private houses, shops, restaurants coffee shops, wine-bars and offices in Italy and abroad. In the design area, she has realized for Alessi two articulated families of objects ("Cactus!", "Ba-Rock) and a series of individual objects.